15% off InsuraWedding Wedding Insurance - Sale Now On!
---
Posted in General Weddings Wedding Insurance, InsuraWedding, wedding insurance sale on 1 January 2023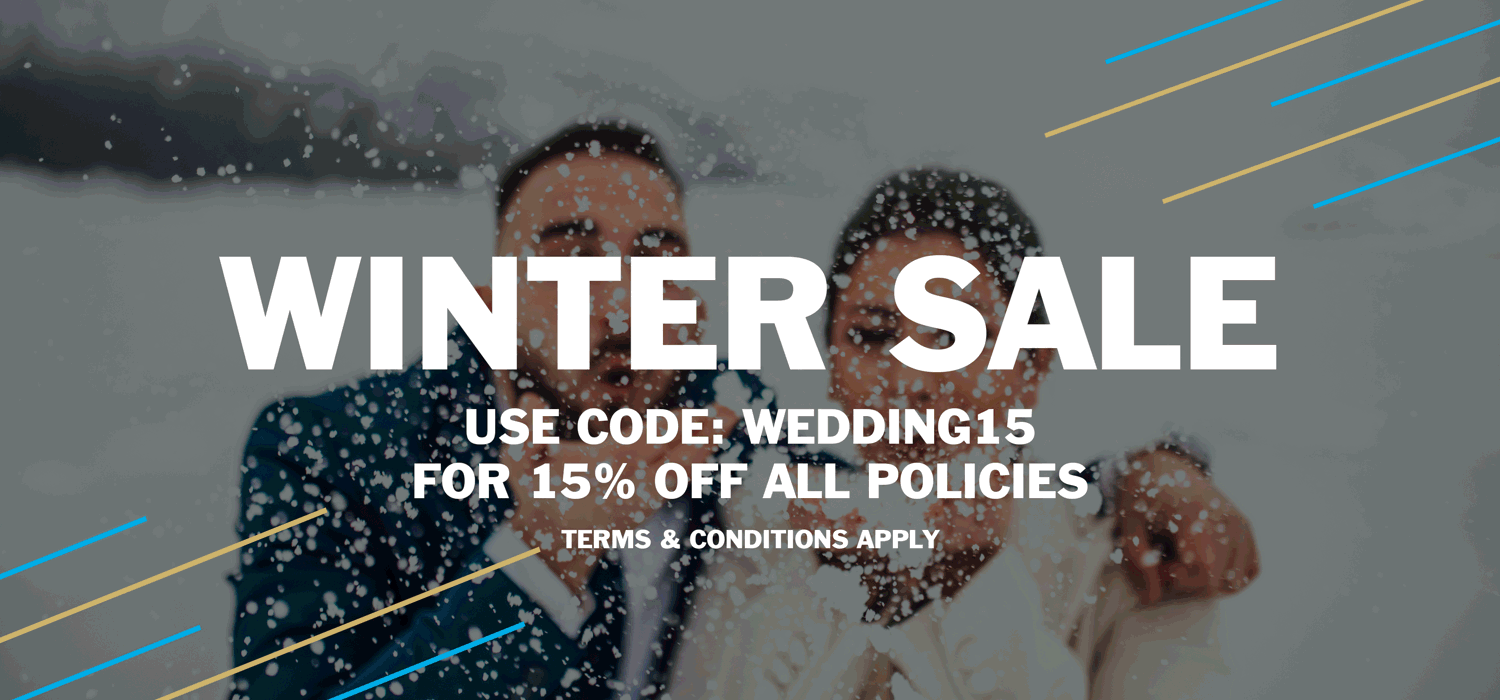 The InsuraWedding Winter Sale is here! Save 15% on all InsuraWedding Wedding Insurance policies between now and midnight on February 14th, 2023, by using code: WEDDING15 at checkout!
InsuraWedding is here to provide as many couples as possible with access to great value Wedding Insurance. Choose from 6 different levels of cover with Cancellation cover ranging from £3,500 up to £15,000. Plus, our prices start from just £34 when you use your 15% discount code: WEDDING15
(Get a Quote)
Our Wedding Insurance policies include much more than just Cancellation cover… with cover for rings, flowers, gifts, cake, transport, ceremonial attire, and more included as standard you can be safe in the knowledge that you have protection in place leading up to and on your big day.
What's more, InsuraWedding provides a selection of optional extras that you can add to your policy to tailor it to your individual needs! Our optional extras include Public Liability extension for Wedding Guests, Marquee cover, and Coronavirus Cancellation cover extension.
InsuraWedding's Coronavirus cover is there to protect you should one of the Marrying couple or a close relative of theirs (as defined in the policy wording), such as a parent, fall ill with Coronavirus (including COVID-19) within 10 days of the scheduled ceremony.
At InsuraWedding, we can protect more than just a Wedding, we can also protect Civil Ceremonies, marriage blessings and renewal of vows ceremonies! You will benefit from having 2 events covered as standard on your InsuraWedding policy (such as your Wedding Ceremony and Wedding Reception) so long as they take place within 21 days of each other.
Get protected in the InsuraWedding Sale
To benefit from our Wedding Insurance promotion, make sure you use the InsuraWedding discount code: WEDDING15 when purchasing a policy to protect your Wedding or Civil Ceremony!
InsuraWedding policies include the following elements of cover:
Cancellation cover – from £3,500 up to £15,000
Financial Failure of Service Suppliers – up to £6,500
Cover for Wedding Gifts – up to £6,000
Rings, Flowers, Attendants Gifts & Wedding Cake cover – up to £6,000
Legal Expenses – up to £9,000
Public Liability cover - up to £2million
And so much more!
See the policy wording here for full information on what is and is not covered.
Please bear in mind that policies must be purchase a MINIMUM of 14 days before the ceremony date.
WAIT! Don't Forget about our Winter Sale on Wedding Insurance where you can get 15% off ALL policies between now and Valentine's Day (14/02/2023). Make sure you use promotional code: WEDDING15 at checkout for 15% off your policy.
Click the 'Get a Quote' button below to get your InsuraWedding Wedding Insurance UK quote today and provide yourself with peace of mind and financial protection leading up to and on your Wedding Day.
P.s. the promo code for your InsuraWedding Wedding Insurance discount is: WEDDING15
This article is for information and entertainment purposes only. It does not constitute advice in any way. The information provided here is correct at the time of writing however please check the latest policy wording here for the latest policy terms, conditions and exclusions.
*This discount code must be used at the time of purchase and cannot be used in conjunction with any other promotions, offers or discount codes. We reserve the right to withdraw this promotion without further notice.
---
Other Related News Articles...
- 4 European City Break Ideas for You to Consider This Autumn
- How to keep your house cool this summer