How to have a wedding during the Cost of Living Crisis?
---
Posted in General Weddings Wedding Insurance, InsuraWedding, wedding tips, affordable wedding options on 16 June 2023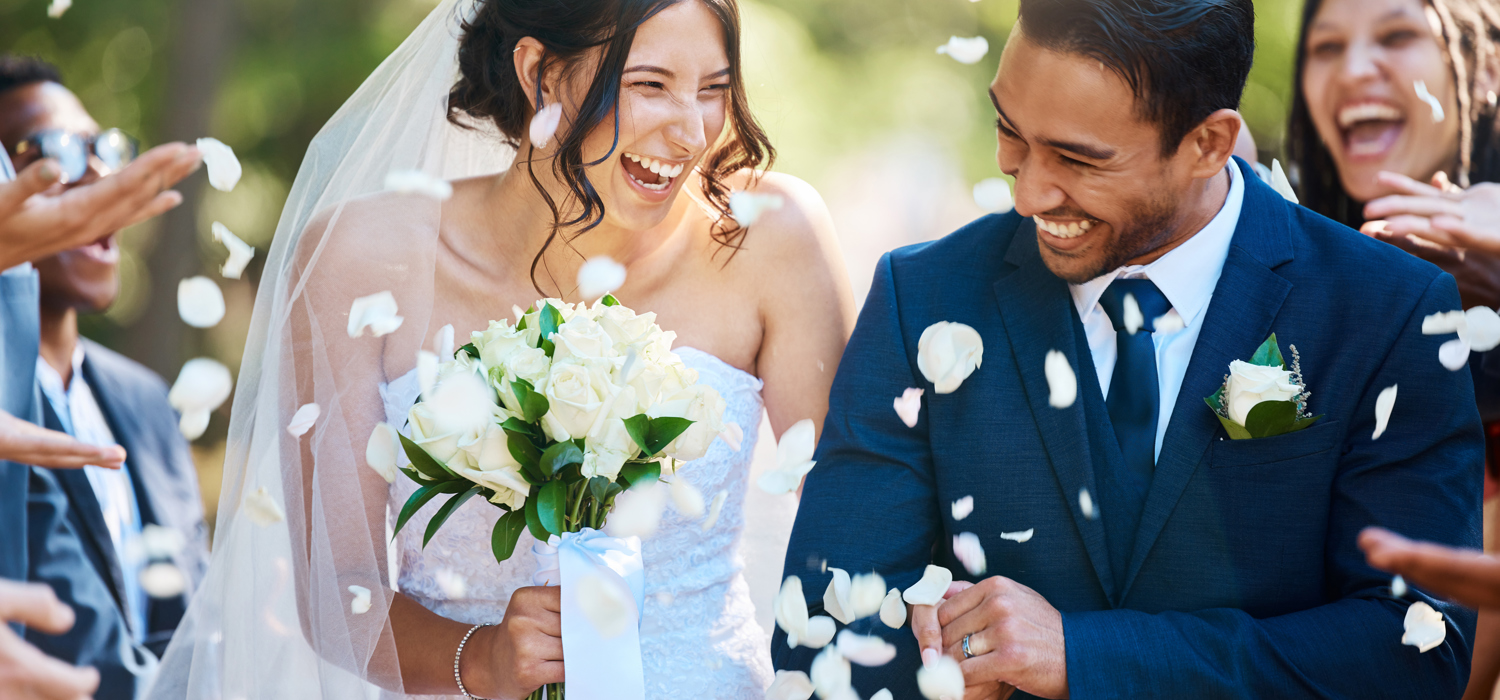 Since late 2021 when cost pressures in the UK first emerged, many have struggled to make their money go as far as they used to. Engaged couples have also been dealt a setback as the average cost of a wedding continues to rise – meaning many couples are now forced to choose between saving for a house deposit and getting married.
However, it is possible to have a wedding without breaking the bank by being sensible about your spending and sticking to your wedding budget. By choosing to implement some of the tips below during your wedding planning, you can still have the wedding of your dreams, potentially at a more affordable price!
Get married out of season.
Typically, the UK wedding season is between May and October with July and August being the most popular months, however, by getting married outside of these months, you could save yourself a lot of money. Some venues charge more than double their standard rates for ceremonies and receptions during peak season.
You have the potential to save money on your wedding day by being flexible about when you get married. Remember, weekend weddings are also more expensive than weekday weddings, so it is worth considering getting married during the week, if possible, for bigger savings.
Limit the number of guests.
When working out how to plan a wedding, one of the main topics of discussion is going to be the guest list. The number of guests you invite will not only determine the size of venue you need but it will also affect the catering numbers, transportation sizes if your guests need to travel from the ceremony to the reception, and many other areas you may not have considered.
In order to be legally married you only require the marrying couple, a registrar or celebrant, and two witnesses to be present. After that, the decision is yours on how many people you invite but a simple way to keep costs down is to limit guest numbers.
Whether you intend to just have family and close friends at the ceremony and then have a bigger wedding reception, or decide that there will be no kids, or even no automatic plus one's at your wedding, there are many options for keeping guest numbers down.
Digital Invites.
Whilst traditional save the date cards and wedding invitations can be done at a reasonably low cost, it makes sense to send them digitally instead. Digital costs are still far less than their paper or card alternatives and allow you to include RSVP options digitally. This will help you cut costs where possibly you hadn't considered before.
Sales and offers, especially when it comes to Wedding Venues.
Rather than spending your time searching the internet for 'budget friendly wedding venues' or 'affordable wedding venues', you may have better luck waiting for sales and special offers. As we mentioned previously, wedding venues are likely to be cheaper if you are having a wedding outside of season but equally, it is good to be on the lookout for venue offers or special discounts.
However, be careful as excessive discounts may be an indication of financial difficulty.
Venue hire is unlikely to be the only item of your wedding planning checklist that has special offers or discounts. Keep an eye out for all things wedding related on sale during the planning process from table décor, to favours, or even flowers to help stay within the budget for your big day.
Look for 'pre-loved' or hire options.
Whilst many brides might search for 'cheap wedding dresses' online you might be able to save money by buying a pre-worn dress. The chances are you will only be wearing your wedding dress once and as such, you may not be willing to spend over £1000 on it.
Even though you may have never considered a pre-loved wedding dress before, they tend to be substantially cheaper than a brand-new version and could save you hundreds of pounds. Be sure to reserve some of your budget for alterations should you choose to go down the pre-loved route.
Similarly, any grooms can consider hiring their morning suit, wedding suit or tuxedo rather than buying one. The same applies here as for wedding dresses as you may never wear your wedding suit again. By hiring your suit, you could again save a lot of money that could be better spent on other areas of your wedding.
Friends and Family.
Friends and family are brilliant as the chances are someone you know will have certain skills that would be perfect for your wedding day. Perhaps someone in your family is great at baking cakes and could lend a hand baking your wedding cake. If you have any friends that are keen photographers, they may be willing to take your pictures for you so that you can save on paying for a professional wedding photographer.
It never hurts to at least ask the question to see if your friends and family would be willing to help on your special day and help save you some money.
Borrowing money.
The tradition of the bride's family paying for the wedding seems long outdated now with many couples opting to pay for the wedding themselves. Plus, with the increasing costs of getting married, monetary gifts from older relatives may not be enough to pay for everything. So, whilst many couples may look to pay for everything out of their savings, another option could be to look at lending options.
Some banks may offer wedding nuptial loans that are paid back at a fixed interest rate over a fixed term. Other options include taking out a 0% interest credit card, which so long as you pay off the full balance before higher interest rates apply, could allow you to spread the cost, and also asking family members for a loan.
Be careful not to get carried away when borrowing money as the debt will still need to be repaid at some point.
Asking your family for loans may not be top of your list, however, with it comes a higher degree of flexibility. So long as everyone understands the repayment structure (might be best to write down in a formal or informal contract), this can be a great way to help pay for your wedding.
You could consider getting family members to 'sponsor' an element of the wedding and name them as the sponsor in the order of service or with a card on the item which names them.
How are other couples looking to cut costs?
Many couples like yourselves are also looking for wedding ideas on a budget. It has been estimated that almost 50% of couples are looking to cut costs by not hiring a wedding planner whilst just under a quarter of couple's plan to do their own hair and makeup.
Other ideas include doing a joint 'Hag' do rather than separate Stag and Hen dos. This is particularly popular amongst couples who share the same or similar friend circles and also helps couples to save money when compared to having sperate wedding parties.
Consider what is important to you and what is something you feel you should have.
For some, turning up to the venue in a flashy wedding car will be very important, potentially because you are mad about cars or perhaps the car is a vintage one that you had always imagined turning up to your wedding in. For others, they may not see the value in turning up in an expensive car. At the end of the day, your wedding day is special to you and your partner and should therefore designed around what you want, not what everyone else might want.
This doesn't have to just relate to your wedding car, this could be photo booths, free bars, DJ's, how many flowers you have, photographers or videographers, make sure your wedding is tailored to you and your needs by avoiding any unnecessary expenses.
Wedding Website.
This lends itself well to sending out digital invites as a wedding website can provide an outline of your itinerary and so much more. Set out transport details, rehearsal details, let guests know about the hotel block if you have one and any other details you need to convey to your guests.
Wedding Insurance.
Whilst spending money on something you might not need may seem counterintuitive in a cost of living crisis, it may be the thing that ends up saving you a lot of money in the long run. Nobody wants to think about the possibility of cancelling or having to rearrange their wedding but sometimes the unexpected happens and it forces your hand.
Wedding Insurance is there to protect you should you unfortunately find yourself in a position where you do have to cancel your wedding. A Wedding Insurance policy could save you thousands of pounds and alleviate some of the worry you may experience in the build up to your big day.
Be sure that whatever Wedding Insurance policy you take out, meets your specific needs. For example, if the overall cost of your wedding is £5,000, you don't need a policy that is going to provide £20,000 Cancellation cover. On the other hand, it is important that you don't underinsure your wedding so that should the unexpected happen you are not left still out of pocket.
Get protected with InsuraWedding Wedding Insurance
Protect your special day and the money you have put into it with an InsuraWedding Wedding Insurance policy. Whilst having to cancel your wedding due to an insured event is bad enough, the only thing that could make that worse is losing out on money you have already paid for it. With InsuraWedding, we can protect your deposits even if you put them down prior to taking out your policy!
InsuraWedding's UK Wedding Insurance provides 6 levels of cover starting from just £40 and gives you the ability to take out Wedding Insurance up to 2 years in advance of your scheduled ceremony date.
InsuraWedding Wedding Insurance policies offer the following benefits as standard:
Cancellation cover – from £3,500 up to £15,000
Financial Failure of Service Suppliers – up to £6,500
Cover for Wedding Gifts – up to £6,000
Rings, Flowers, Attendants Gifts & Wedding Cake cover – up to £6,000
Legal Expenses – up to £9,000
Public Liability cover - up to £2million
And so much more!
See the policy wording here for full information on what is and is not covered.
Please bear in mind that policies must be purchase a MINIMUM of 14 days before the ceremony date.
This article is for information and entertainment purposes only. It does not constitute advice in any way. The information provided here is correct at the time of writing however please check the latest policy wording here for the latest policy terms, conditions and exclusions.
---
Other Related News Articles...
- 4 European City Break Ideas for You to Consider This Autumn
- How to keep your house cool this summer