What Is Subsidence & What Does It Mean For My Home?
---
Posted in General Household Home Insurance, Insurance for unoccupied property, Insurance for UK holiday home, What is Subsidence?, What does it mean for my home? on 27 May 2022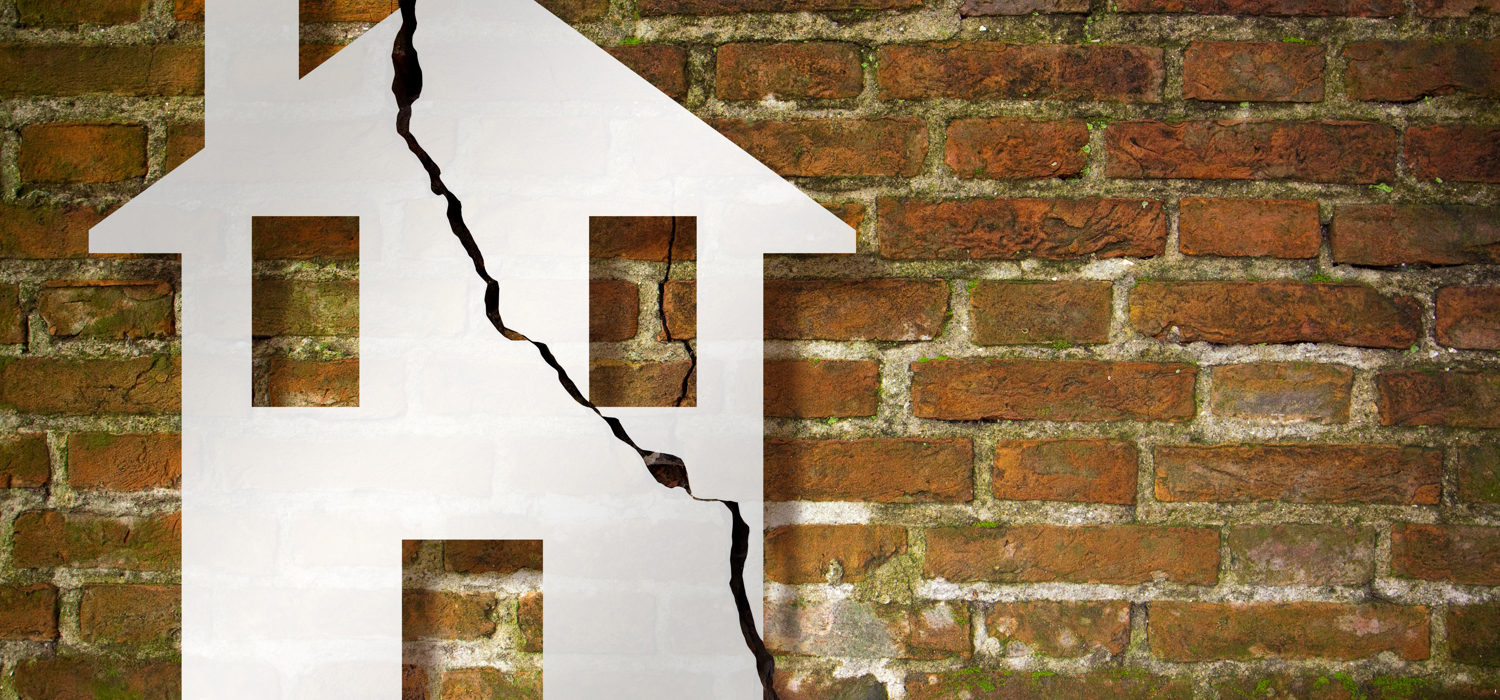 Subsidence can be every homeowner's worst nightmare. When you think of one of the worst things that can happen to your home, subsidence is very close to or at the top of that list.
What is Subsidence?
Subsidence is when the ground beneath your home begins to sink and starts pulling the foundations down with it. This process can cause the walls and floors to shift, leading to cracks and could potentially destabilise the construction of the entire property.
So, what are the warning signs to look out for and what are the common causes of subsidence? InsuraHome Home Insurance explains.
What causes Subsidence?
Warm weather
Warmer weather is one of the most common causes of subsidence. In fact, subsidence claims increased in 2018 because of the UK's heatwave. See our article, here, for more information.
As the ground below a property warms, soil rich in clay can shrink as the water trapped below evaporates. This causes the soil to shrink, leading to the downward movement of the ground above.
Trees
Trees may look beautiful and provide much needed shade and greenery in any garden, but they can have serious consequences if they are too close to your home.
Trees Drawing water out of the soil can cause that soil to shrink, thus, leading the foundations to shift due to lack of moisture. Trees growing near to or under the foundations can cause the ground to shift and become less stable too!
Too much water on the ground
Leaky drains, flooding and heavy rainfall can wash away soil particles over time, causing the ground to slowly shift and become less stable.
What are the signs of subsidence?
There are a number of signs, on both the inside and outside of a property, which can suggest the existence of subsidence. Indications of subsidence include:
Cracks in the walls, ceilings and brickwork
Expanding of existing cracks
Cracks appearing after a long period of dry weather
Doors and Windows no longer fitting in their frames. This suggests that the doorframes or window frames have changed shape.
It is vital to seek professional advice as soon as you become aware of signs of subsidence in your home, as the sooner it is identified, the easier it will be to rectify. Solving subsidence issues can be a lengthy process, with many cases having to be monitored for long periods of time, making it even more important to get help as soon as possible.
What causes Subsidence?
Heave
Subsidence is not the same as heave, which is where parts of the ground under your home shift upwards pushing the foundations higher.
Settlement
Settlement and subsidence are often confused. Settlement occurs when the ground below a property is compacted by the weight of the building. This usually happens in the first 10 years after building and is relatively common. Cracks in the walls caused by settlement are usually harmless and can be plastered over.
However, cracks that appear and continue to grow, reaching a width of 15mm or more, should be investigated to make sure that the property is structurally sound.
What can I do to protect my home if I have subsidence?
The most common remedies for subsidence include:
Regular maintenance or removal of trees and bushes.
Repair work to damaged drains and pipes to prevent further escape of water.
Underpinning the foundations.
Although underpinning is a treatment commonly associated with subsidence, underpinning the foundations to increase their depth and prevent any further movement is a very expensive and lengthy process and is only recommended as a last resort option.
The most appropriate cause of action will ultimately depend on the cause of the subsidence. Whilst subsidence can seem scary, it's important to remember that it is usually successfully treated and if considered reasonable by your home insurance company, the costs for identifying and treating it may be covered by the buildings section of cover on your home insurance policy.
Anything else I can do to protect my home?
Insuring your home
InsuraHome Home Insurance can help provide cover for you and your home from a number of perils such as fire, subsidence, earthquakes and may be able to offer protection where others may have declined in the past.
Policy Benefits under the Standard InsuraHome Buildings Insurance and Contents Insurance include:
Loss or Damage caused by Fire, Smoke, Explosion, Lightning or Earthquake
Loss or Damage caused by Storm, Hail or Weight of Snow
Loss or Damage caused by Flood
Loss or Damage caused by the escape of water
A choice of policy excess – £100, £250, £500 or £1,000
First time buyer discount
Facility to transfer any no claims history from a previous insurer
Covers the cost of alternative accommodation if your property is left uninhabitable due to an insured event
Cover in case of Subsidence, Heave or Landslip is available!
Accidental Damage cover is available
How do I get an Insurahome Home Insurance Quote?
At InsuraHome Home Insurance we aim to provide a first-class customer service experience to ensure you are getting the protection you require. To get an InsuraHome Home Insurance quote, download and complete an application form available on our website and email it to info@insurahome.co.uk
If you would like some assistance when completing your application form, do not hesitate to call our InsuraHome Second Home Insurance specialists on 01483 806 900.
This article is for information and entertainment purposes only. It does not constitute advice in any way. The information provided here is correct at the time of writing however please check the latest policy wording here for the latest policy terms, conditions and exclusions.
---
Other Related News Articles...
- 4 European City Break Ideas for you to Consider This Autumn
- How to keep your house cool this summer